Good Morning! It's Tuesday week #9 of the
Midnight Madness Sketch Challenge
! This weeks sketch is a REALLY fun one. It's hard to tell the sketch from my creation so be sure to hop over there and see the Sketch Layout and Design Team Ideas for yourself! I know you will get inspired to play with us!!
I used
Hickory Wood Paper - Pre-cut Strips
for the frame behind the Sunflowers. The Sunflowers are my
Sunflower Digi's
that I have printed out in several different sizes...just like how God makes them! I have used the
Birch Wood Paper - Pre-cut Strips
to make the window flower box. I used some Spanish moss as filler and
100% All Natural Grape Vine Twists
. Also, you may not have noticed, but I printed the sunflowers on the background paper too. Started with a glossy sheet of cardstock. Stop back tomorrow for a little tutorial on how I made the background!
I cut the top of the sunflower out so it would be in front of the window frame. I also used the Paper Tole Technique on the sunflowers. I used a pencil eraser on the backside of the brown flower center to make it round.
All the flower stems, Spanish moss and grape vine twists are all stuck in the flower box. Snug as a bug! ;)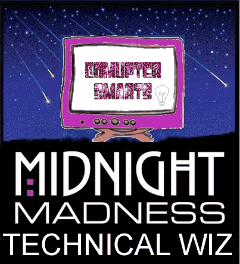 To my GREAT SURPRISE this morning, Priscilla, gave me the Midnight Madness Technical Wiz Award! How Cool is THAT???? Thank you Priscilla. And I would help you ladies anytime with your computer and Blogger troubles! It's an honor to be part of this group and whatever I can do to help support everyone! Thank you again and I will wear this badge proudly!
Addition to original post! :)
I was just doing some blog surfing and came across a few other challenges I have not seen before that this card would qualify to be in. I'm so excited! You should check them out!
Pile It On
- 3 different embellishments PLUS combine with other challenges
Stamps:
McMahon Five Designs Sunflower Digi
Inks:
Momento Tuxedo Black, Copics, Garden Green, Summer Sun, More Mustard, Really Rust, Close to Cocoa
Accessories/Embellishments:
Sewing machine, Sponges, Printer, 3 SU! Ribbons, Sunflower embellishments, Spanish moss,
Grape Vine Twists
, Stickles, Dimensionals