We would like to start off by thanking everyone that applied for our Design Team.
THANK YOU!
It was a fun seeing all the beautiful cards submitted and the lovely smiling faces too! Please help us in welcoming the New Members of the M5D Design Team!
New DT Members
January Guest Designer
We will have a more official Meet-n-Greet on January 1st. Mark your calendars! :)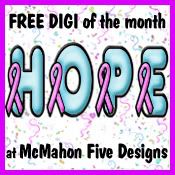 It's that time again when we remind you about your monthly self exam! And when you have completed it, you can download the image below for FREE!
Something
NEW
we are going to do per a request we received
is to let you know even though WE focus on Breast Cancer Awareness,
the ribbon represents so many other cancers and diseases.
Each month we will list that month's Awareness and their Colors.
Below are the Awareness and Colors for January
Cervical Health Awareness Month
- Teal & White Ribbon
www.nccc-online.org/awareness.html
National Birth Defects Prevention Month
- Pink & Blue Ribbon www.nbdpn.org/current/resources/bdpm2010.html
Thyroid Awareness Month
- Pink, Blue & Teal (tri-color)
www.aace.com
Glaucoma Awareness Month
- Green Ribbon http://www.preventblindness.org/news/observe.html

Now For some INSPIRATION!!!!

This was short notice for the new ladies (plus their official start date isn't until Jan 1st) so thank you very much for putting a project together so quickly.
A few of the girls are still working on their projects and as they get them complete,
I will add them to this post.
Please check back to see their beautiful work!
12 Drummers Drumming Card by:
Lorie
Clown Free Digital Stamp Card by:
Shelly
Need a Laugh???? Keep Reading...
If you happened to see my earlier post about our
kitten that lives in our Christmas tree
,
he has graduated to building himself a perch on top of our tree. AND he turns the top section of lights on & off...depending on his mood, of course. LOL!
He is our Living Angel on top our tree.
And yes, our tree is still pretty bare so he doesn't break anything.
The kids seem to get more enjoyment out of this kitten being in the tree
than they do ornaments. So I'm going with it...this year anyway. :)
Thank you all for stopping by and if I don't post again this week, have a
very Merry and Blessed Christmas.